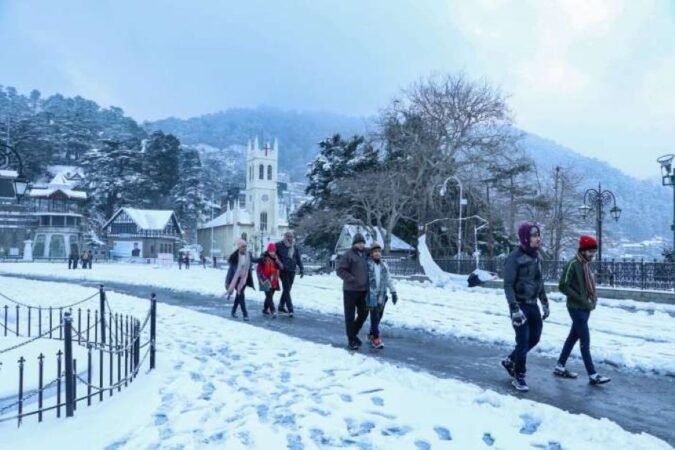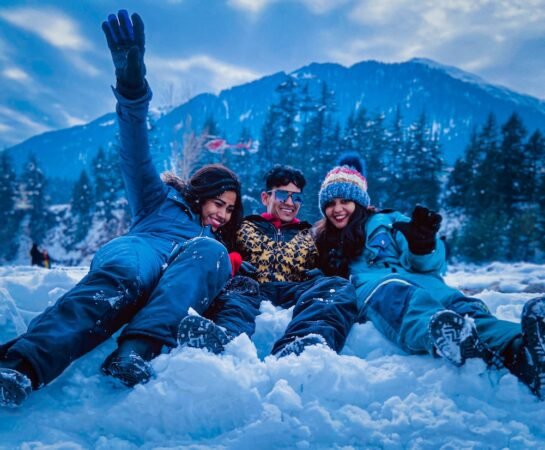 Shimla Manali Honeymoon Tour Package Ex. Delhi 5N/6D
Shimla, Manali Himachal pardesh
Day 1: Arrival in Delhi and Transfer to Shimla
Begin your romantic escapade as you arrive in Delhi, where you will be warmly welcomed by our representative. From there, embark on a scenic drive to Shimla, the "Queen of Hill Stations." As you ascend through the winding roads, feel the cool breeze and witness the panoramic views of the snow-capped Himalayan peaks. Upon reaching Shimla, check into your cozy honeymoon suite and spend the evening at leisure, strolling hand in hand along the famous Mall Road. Indulge in some shopping, savor local delicacies, and immerse yourselves in the romantic ambiance of this charming hill station Shimla.
Day 2: Shimla Local Sightseeing
On the second day of your honeymoon tour package, explore the captivating attractions of Shimla. Visit the famous Jakhu Temple, located on Jakhu Hill, offering panoramic views of the surrounding valleys. Seek blessings for your new journey together and capture beautiful moments against the scenic backdrop. Take a romantic walk to the Ridge, a spacious open space in the heart of Shimla, where you can enjoy breathtaking vistas of the Himalayas. Visit the Christ Church, an architectural marvel known for its neo-Gothic style. In the evening, enjoy a leisurely horse ride together at the scenic Ridge Maidan.
Day 3: Shimla to Manali Transfer
Bid farewell to Shimla as you embark on a picturesque drive to the captivating town of Manali. Enjoy the mesmerizing journey through the scenic valleys, lush forests, and meandering rivers. As you enter Manali, feel the romantic vibes that fill the air. Check into your luxurious honeymoon resort and spend the evening at leisure, taking in the serene surroundings and enjoying the privacy of your cozy retreat. Indulge in a romantic candlelit dinner, surrounded by the majestic mountains, and toast to your everlasting love.
Day 4: Manali Sightseeing and Rohtang Pass Excursion
Embark on a day of adventure and exploration as you discover the captivating attractions of Manali. Begin by visiting the Hadimba Devi Temple, a unique shrine nestled amidst the cedar forests. Seek the blessings of the deity for a blissful married life. Enjoy a romantic walk through the colorful Manali Market, where you can shop for traditional handicrafts and souvenirs. In the afternoon, embark on an exhilarating excursion to Rohtang Pass, a snowy paradise offering breathtaking views and exciting snow activities. Play in the snow, capture mesmerizing pictures, and create unforgettable memories together.
Day 5: Solang Valley Adventure and Manali Local Sightseeing
Embark on an exciting adventure in the picturesque Solang Valley, known for its thrilling activities and stunning natural beauty. Engage in activities like paragliding, zorbing, and skiing, as you enjoy moments of adrenaline rush and togetherness. Experience the joy of being surrounded by snow-capped peaks and pristine landscapes. Later, visit the enchanting Vashisht Temple and take a dip in the therapeutic hot springs, known for their healing properties. Enjoy a leisurely walk along the romantic Mall Road, hand in hand with your loved one, and shop for souvenirs to commemorate your special journey.
Day 6: Manali to Delhi Departure
On the final day of your honeymoon, bid farewell to the captivating beauty of Manali as you travel back to Delhi. Cherish the memories of the romantic moments, adventures, and the bond you've deepened during this unforgettable trip. Depart from Manali with a heart filled with love and a promise to return to this heavenly destination in the future.
Shimla Manali Honeymoon Tour 
Embark on a romantic journey with our Shimla Manali Honeymoon Tour Package, designed to create unforgettable memories for you and your loved one. This enchanting itinerary will take you to two of the most sought-after honeymoon destinations in India, Shimla and Manali. With breathtaking landscapes, serene surroundings, and a perfect blend of natural beauty and romantic charm, these destinations offer an ideal setting for a dream honeymoon.
Shimla, the capital city of Himachal Pradesh, is nestled in the lap of the mighty Himalayas. Known for its colonial architecture, lush greenery, and pleasant climate, Shimla sets the stage for a romantic escapade. Walk hand in hand along the bustling Mall Road, lined with quaint shops and cozy cafes, as you soak in the vibrant atmosphere. Explore the historic Viceregal Lodge, witness the majestic Christ Church, and seek blessings at the ancient Jakhu Temple. From The Ridge, catch breathtaking views of the snow-capped mountains and picturesque valleys, creating the perfect backdrop for your honeymoon photographs.
Manali, situated in the Kullu Valley, is a paradise for honeymooners. Surrounded by towering mountains, lush valleys, and gushing rivers, Manali exudes a serene and romantic ambiance. Take leisurely strolls through apple orchards, visit the famous Hadimba Devi Temple, and enjoy adventurous activities like paragliding and river rafting. Experience the charm of Old Manali with its traditional wooden houses and vibrant markets, where you can shop for souvenirs and local handicrafts. Don't miss the opportunity to visit the enchanting Solang Valley, known for its stunning landscapes and thrilling snow activities.
Our Shimla Manali Honeymoon Tour Package ensures a comfortable and memorable stay for you and your partner. We provide hand-picked accommodations, ranging from luxurious resorts to cozy cottages, where you can relax and enjoy
Transport services by an exclusive vehicle as per itinerary.

Swift Dzire/Etios/Amaze

MAP Plan ( Breakfast & Dinner)

Airport, Railway Station and Hotel Pickup and drop back at the end of the tour.

Assistance on arrival.

Check in & Check out at 12Noon.

Inclusive fall the Taxes (Parking, Toll Tax, Luxury Tax, Green Tax, Felix, And Driver Exp.etc.
Heater charge will be extra.

Any monument entry fees / camera fees.

Any meal, which is not mentioned above.

Any guide charges.

5% GST.

Any air / train fare.
Cancellation before 30days of start date will be charged 20% Of Total Package.
Cancellations between 16 days to 30 days before start date, 35% of tour cost would be charged as retention.
Cancellations between 10 days to 15 days before start date, 50% of tour cost would be charged as retention.
Cancellation between 7 days to 5 days will be charged full amount Token amount not refundable
Our Destination expert will be happy to help you resolve your queries for this tour.
Email - info@plutotours.com
25000+ Pictures and Reviews on the platform.
10000+ Tours and Activities
We have activities across 17 countries, across every category so that you never miss best things to do anywhere.
We are always able to support you so that you have a hassle free experience.