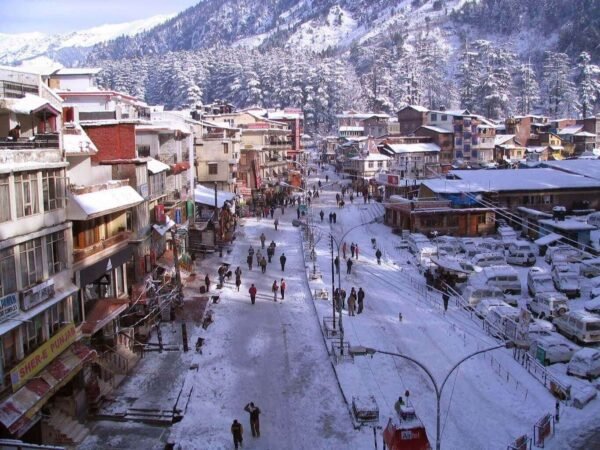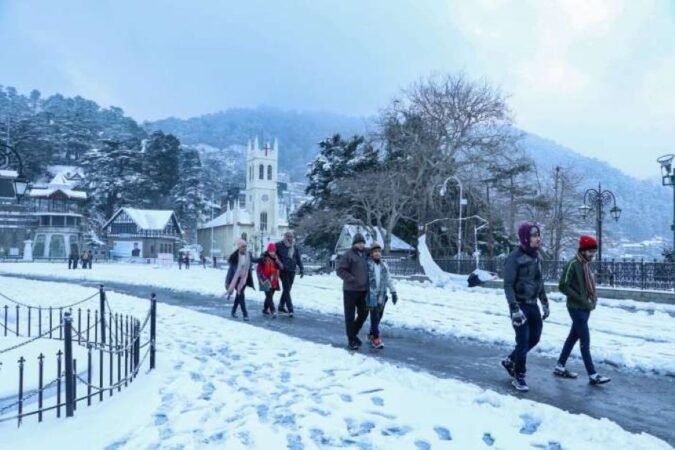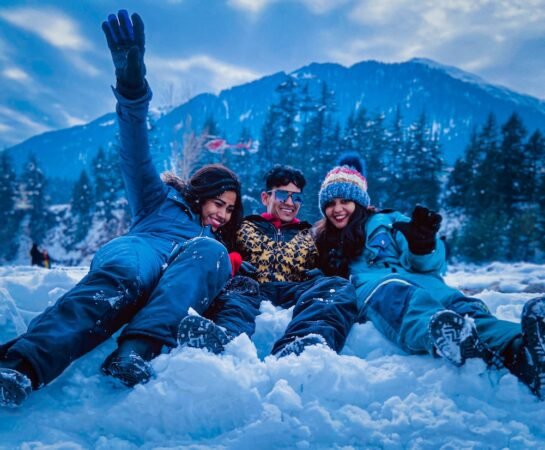 Shimla Manali Tour Package with Manikaran 6N/7D
Shimla, Manali Himachal pardesh
Day 1: Arrival in Delhi and Transfer to Shimla
Your journey begins with your arrival in Delhi, the capital city of India. After a warm welcome, embark on a scenic drive to Shimla, the "Queen of Hill Stations." Enjoy the picturesque views as you ascend through winding roads, surrounded by dense forests and panoramic vistas. Upon reaching Shimla, check into your hotel and take some time to relax and soak in the pleasant climate. In the evening, explore the Mall Road, a bustling hub of shops, restaurants, and local attractions. Indulge in local delicacies and immerse yourself in the vibrant atmosphere before returning to your hotel for a comfortable overnight stay.
Day 2: Shimla Local Sightseeing
On the second day, embark on a local sightseeing tour of Shimla. Visit the iconic Jakhu Temple, dedicated to Lord Hanuman, and enjoy panoramic views of the surrounding mountains. Explore the Viceregal Lodge, a historic building that once served as the summer residence of the British viceroys. Take a leisurely walk along the Ridge, a famous promenade offering breathtaking views of the Himalayan peaks. Visit the Christ Church, known for its magnificent architecture and serene ambiance. Spend the evening at leisure, strolling through the beautiful streets of Shimla and exploring the local markets. Return to your hotel and relax amidst the tranquil surroundings.
Day 3: Shimla to Manali Transfer and Kullu Sightseeing
On the third day, bid farewell to Shimla as you proceed to the enchanting town of Manali. Enjoy the scenic drive through the picturesque valleys and alongside the gushing Beas River. En route, stop at Kullu, renowned for its scenic beauty and vibrant culture. Visit the famous Kullu Shawl Factories and witness the traditional art of shawl weaving. Explore the colorful markets and indulge in shopping for local handicrafts and souvenirs. Continue your journey to Manali and check into your hotel. Spend the evening at your leisure, enjoying the serene ambiance of this beautiful hill station.
Day 4: Manali Local Sightseeing
On the fourth day, embark on a local sightseeing tour of Manali. Visit the iconic Hadimba Devi Temple, a unique temple dedicated to the goddess Hadimba, set amidst the tranquil Deodar forests. Explore the Vashisht Temple, known for its hot water springs believed to have medicinal properties. Enjoy a rejuvenating dip in the hot springs and experience a sense of serenity. Visit the Tibetan Monastery and learn about Tibetan culture and Buddhism. In the evening, explore the Mall Road, where you can indulge in shopping for local handicrafts, woolen items, and delicious street food. Return to your hotel and relax after a day filled with exploration.
Day 5: Excursion to Solang Valley and Rohtang Pass (Subject to availability)
On the fifth day, embark on an exhilarating excursion to Solang Valley and Rohtang Pass (subject to availability and weather conditions). Enjoy the scenic drive to Solang Valley, known for its breathtaking views and adventure activities. Engage in thrilling activities like paragliding, zorbing, and skiing (seasonal). Capture stunning photographs against the backdrop of snow-capped mountains and pristine landscapes. If Rohtang Pass is accessible, proceed to this high-altitude mountain pass and immerse yourself in the majestic beauty of the Himalayas. Experience the thrill of playing in the snow and enjoy the panoramic views. Return to your hotel in Manali and relish the memories of an adventurous day.
Day 6: Manikaran Excursion
On the sixth day, embark on a spiritual and cultural excursion to Manikaran. Visit the famous Manikaran Sahib Gurudwara, a place of great religious significance for Sikhs and Hindus. Explore the hot springs and experience the therapeutic properties of the natural geothermal waters. Indulge in delicious langar (community meal) served at the Gurudwara. Visit the Lord Shiva Temple and seek blessings in the serene ambiance. Immerse yourself in the local culture and interact with the friendly locals. In the evening, return to your hotel in Manali and relax after a day of spiritual exploration.
Day 7: Departure from Manali to Delhi
On the final day of your tour, bid farewell to the enchanting hills of Manali. After breakfast, check out from your hotel and embark on a scenic drive back to Delhi. Cherish the memories of your Himalayan adventure as you traverse through the picturesque landscapes. Upon reaching Delhi, you will be transferred to the airport or railway station for your onward journey, carrying with you unforgettable experiences and a longing to return to the mystical Himalayas.
Shimla Manali Tour with Manikaran Package
In India, the Shimla Manali tour package is a well-liked vacation route, particularly for those looking for a peaceful and gorgeous escape to the Himalayas. Budget-friendly Shimla Manali tour provides you two stunning hill towns that may be found in the Himachal Pradesh state: Shimla and Manali.
Explore Shimla Manali with package:
Himachal Pradesh's capital city of Shimla is renowned for its historic beauty and stunning scenery. The town is renowned for its Mall Road, a busy strip dotted with stores, eateries, and structures from the colonial era. The Viceregal Lodge, Jakhu Temple, The Ridge, and other sights are available for visitors to explore. Shimla is a favorite vacation spot for nature lovers and adventure seekers thanks to its warm climate and breathtaking scenery.
Manali, which is roughly 250 kilometers (155 miles) north of Shimla, is well known for its snow-capped mountains, verdant valleys, and roaring rivers. The town serves as a starting point for a number of adventurous pursuits, including hiking, paragliding, river rafting, and skiing (during the winter months). Popular destinations for tourists include the Hadimba Temple, the Solang Valley, the Rohtang Pass, and the charming Naggar Castle.
For the Shimla Manali holiday package the summer months, from April to June, are the best for visiting Shimla and Manali since the weather is nice and great for outdoor activities. For an Exclusive Shimla Manali tour Plan a trip between December and February for winter sports enthusiasts to experience snowfall.
For the Shimla Manali holiday package, Chandigarh Airport and Kullu-Manali Airport are the closest international airports to Shimla and Manali. To get to Shimla or Manali from there, you can either rent a taxi or take a bus. In your Shimla Manali travel deal, both cities are easily accessible by road from neighboring states like Delhi and Punjab.
In the Shimla Manali holiday package, travelers can select from a range of lodging options during the vacation, from affordable guesthouses to opulent resorts. 
In summary, the Shimla Manali tour package provides a unique combination of tranquility, adventure, and natural beauty. In your Shimla Manali travel deal, this journey guarantees an amazing experience in the lap of the Himalayas, whether you wish to take in the panoramic views, partake in exhilarating activities, or simply relax amidst nature.
Highlights of Shimla Manali Tour Package
Route: Delhi – Shimla – Kufri – Kullu – Manali – Solang Valley – Manikaran – Delhi
Duration: 7 Days / 6 Nights
Start Point: Delhi
End Point: Delhi
Explore the Ridge and Mall Road for a day.
Take in a tour of the Himachal State Museum
Visit  Hidimba Devi Temple
Transport services by an exclusive vehicle as per itinerary.

Swift Dzire/Etios/Amaze

MAP Plan ( Breakfast & Dinner)

Airport, Railway Station and Hotel Pickup and drop back at the end of the tour.

Assistance on arrival.

Check in & Check out at 12Noon.

Inclusive fall the Taxes (Parking, Toll Tax, Luxury Tax, Green Tax, Felix, And Driver Exp.etc.
Heater charge will be extra.

Any monument entry fees / camera fees.

Any meal, which is not mentioned above.

Any guide charges.

5% GST.

Any air / train fare.
Cancellation before 30days of start date will be charged 20% Of Total Package.
Cancellations between 16 days to 30 days before start date, 35% of tour cost would be charged as retention.
Cancellations between 10 days to 15 days before start date, 50% of tour cost would be charged as retention.
Cancellation between 7 days to 5 days will be charged full amount Token amount not refundable
Our Destination expert will be happy to help you resolve your queries for this tour.
Email - info@plutotours.com
25000+ Pictures and Reviews on the platform.
10000+ Tours and Activities
We have activities across 17 countries, across every category so that you never miss best things to do anywhere.
We are always able to support you so that you have a hassle free experience.