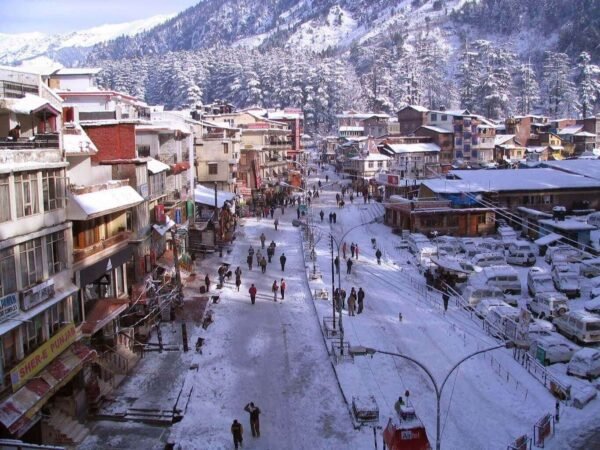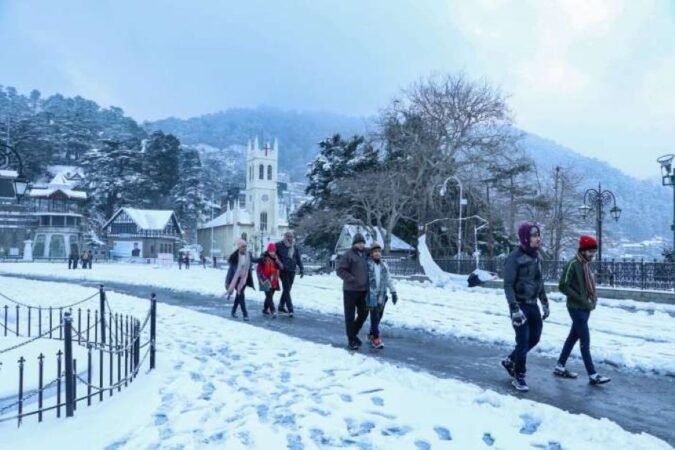 Dharamshala Dalhousie Honeymoon Tour Package ex. Delhi 5N/6D
Day 1 Delhi to Dharamshala
Your romantic journey begins as you arrive in Delhi, where you'll be greeted by our representative. From there, you'll embark on a scenic drive to Dharamshala, a mesmerizing hill station known for its spiritual vibes and natural beauty. Enjoy the picturesque views of the lush green valleys and snow-capped mountains as you ascend towards your destination. Upon reaching Dharamshala, check into your cozy honeymoon retreat and take some time to unwind and soak in the serene atmosphere. Spend the evening at leisure, enjoying a romantic dinner and embracing the tranquility that surrounds you.
Day 2: Dharamshala Sightseeing and Tibetan Cultural Immersion
On the second day, delve into the captivating tourist attractions of Dharamshala. Begin by visiting the Dalai Lama Temple Complex, a significant Buddhist site that serves as the residence of His Holiness the Dalai Lama. Immerse yourself in the spiritual ambiance and witness the peaceful coexistence of different cultures. Explore the Namgyal Monastery, where you can learn about Tibetan Buddhism and its practices. Discover the rich Tibetan heritage by exploring the bustling markets filled with colorful handicrafts, prayer flags, and traditional Tibetan artifacts. In the evening, take a romantic walk along the scenic Naddi Village, offering breathtaking views of the Dhauladhar ranges.
Day 3: McLeod Ganj Exploration and Bhagsunag Falls
 The third day is dedicated to exploring McLeod Ganj, a charming town near Dharamshala that is known for its vibrant Tibetan community. Visit the Tsuglagkhang Complex, which houses the residence of His Holiness the Dalai Lama and several Buddhist temples. Take a moment to meditate and find inner peace amidst the serene surroundings. Embark on a short hike to the Bhagsunag Falls, a mesmerizing waterfall nestled amidst the lush greenery. Enjoy a romantic picnic near the falls and let the sound of cascading water create a romantic backdrop for your intimate moments.
Day 4: Transfer to Dalhousie and Romantic Strolls
 Bid farewell to Dharamshala as you proceed towards the charming town of Dalhousie, known for its colonial charm and natural beauty. Enjoy the scenic drive through winding roads, dense forests, and panoramic views of the Himalayan ranges. Upon arrival in Dalhousie, check into your romantic honeymoon resort and spend the day at leisure. Take leisurely strolls along the Mall Road, hand in hand with your partner, as you admire the colonial architecture, explore local shops, and savor delicious Himachali cuisine. Immerse yourselves in the romantic ambiance and create cherished memories together.
Day 5: Dalhousie Local Sightseeing and Khajjiar Excursion
Embark on a day of exploration as you discover the local attractions of Dalhousie. Start by visiting Khajjiar, often referred to as the "Mini Switzerland of India." Admire the lush green meadows, dense forests, and the breathtaking Khajjiar Lake, which reflects the surrounding snow-capped mountains. Enjoy a romantic horse ride around the picturesque landscapes and capture beautiful moments amidst nature's splendour. Later, visit the St. John's Church, an architectural marvel that showcases the colonial legacy of the region. Take a peaceful moment to offer prayers and seek blessings for your journey together.
Day 6: Departure from Dalhousie to Delhi
On the final day of your romantic honeymoon, bid adieu to the enchanting beauty of Dharamshala and Dalhousie as you depart for Delhi. Cherish the memories you've created, the love you've shared, and the bonds you've strengthened during this unforgettable journey. Leave with a promise to return to this heavenly destination in the future, carrying the warmth of Himachal Pradesh in your hearts.
Dharamshala Dalhousie Honeymoon Tour Package
If you're seeking a romantic getaway amidst picturesque landscapes and serene surroundings, then the Dharamshala Dalhousie honeymoon itinerary is the perfect choice for you. Nestled in the breathtaking hills of Himachal Pradesh, these two destinations offer an idyllic setting for couples to celebrate their love and embark on a memorable journey together.
Dharamshala, known for its spiritual charm and tranquil ambiance, is the first stop on this romantic adventure. The city is divided into two parts – Upper Dharamshala and Lower Dharamshala. Upper Dharamshala is home to McLeod Ganj, the residence of the exiled Tibetan spiritual leader, the Dalai Lama. The serene monasteries and stunning views of the Dhauladhar Range make it a must-visit destination for couples seeking peace and tranquility.
Dalhousie, on the other hand, enchants with its colonial charm and panoramic vistas. Named after Lord Dalhousie, a British Governor-General, this hill station offers a delightful mix of British architecture, lush greenery, and majestic mountains. Stroll hand-in-hand along the Mall Road, visit the historic churches, and take in the breathtaking views of the valleys and snow-capped peaks.
This Dharamshala Dalhousie honeymoon itinerary is carefully crafted to ensure that you make the most of your romantic getaway. From exploring the spiritual sites of Dharamshala to experiencing the colonial charm of Dalhousie, each day is filled with delightful activities and mesmerising landscapes.
Immerse yourself in the spiritual vibes of the Tsuglagkhang Complex in McLeod Ganj, visit the charming St. John in the Wilderness Church, and explore the colourful bazaars where you can find unique Tibetan handicrafts and souvenirs. In Dalhousie, enjoy a leisurely stroll through the serene Khajjiar Lake, often referred to as the "Mini Switzerland of India," and visit the Kalatop Wildlife Sanctuary for a close encounter with nature.
Indulge in the local cuisine and savor the flavors of Himachal Pradesh. From steaming momos to piping hot thukpa, the culinary delights of this region will tantalize your taste buds and add a touch of gastronomic pleasure to your honeymoon experience.
With its pleasant weather, breathtaking landscapes, and a blend of spirituality and colonial charm, the Dharamshala Dalhousie honeymoon itinerary promises an unforgettable journey for couples. Whether you're seeking adventure, relaxation, or a romantic escape, this itinerary has something for every couple. So, pack your bags, hold hands, and embark on a journey of love, tranquility, and breathtaking beauty in Himachal Pradesh.
Transport services by an exclusive vehicle as per itinerary.

Swift Dzire/Etios/Amaze

MAP Plan ( Breakfast & Dinner)

Airport, Railway Station and Hotel Pickup and drop back at the end of the tour.

Assistance on arrival.

Check in & Check out at 12Noon.

Inclusive fall the Taxes (Parking, Toll Tax, Luxury Tax, Green Tax, Felix, And Driver Exp.etc.
Heater charge will be extra.

Any monument entry fees / camera fees.

Any meal, which is not mentioned above.

Any guide charges.

5% GST.

Any air / train fare.
Cancellation before 30days of start date will be charged 20% Of Total Package.
Cancellations between 16 days to 30 days before start date, 35% of tour cost would be charged as retention.
Cancellations between 10 days to 15 days before start date, 50% of tour cost would be charged as retention.
Cancellation between 7 days to 5 days will be charged full amount Token amount not refundable
Our Destination expert will be happy to help you resolve your queries for this tour.
Email - info@plutotours.com
25000+ Pictures and Reviews on the platform.
10000+ Tours and Activities
We have activities across 17 countries, across every category so that you never miss best things to do anywhere.
We are always able to support you so that you have a hassle free experience.