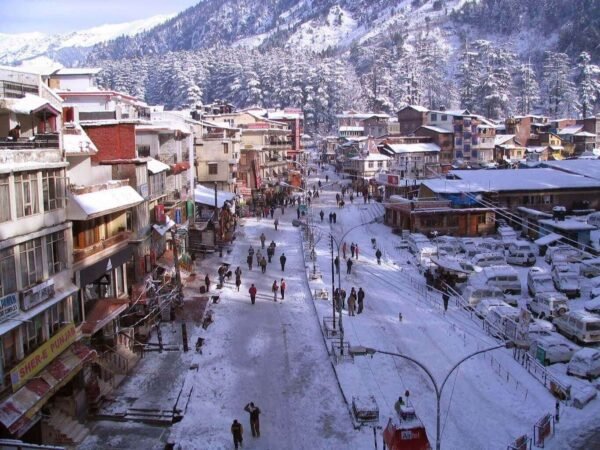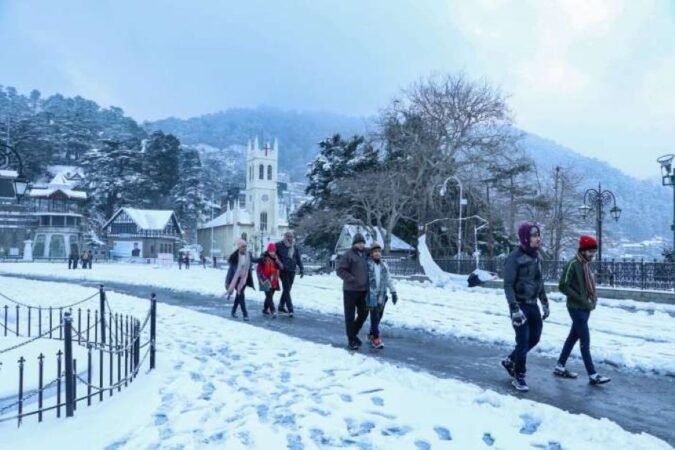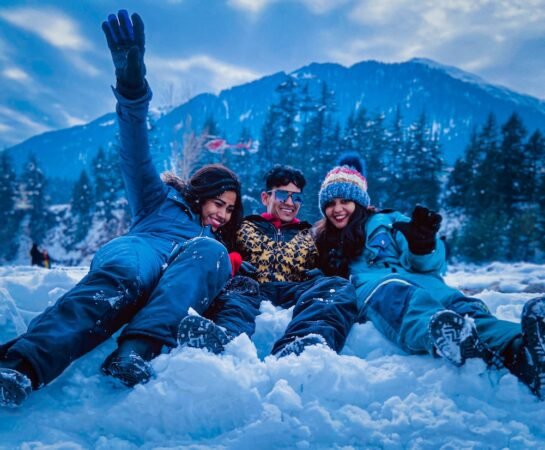 Manali Tour Package 3N/4D
Your journey begins in Delhi, where you'll board a comfortable vehicle and embark on a scenic drive to Manali. As you leave the plains behind and ascend into the mountains, the landscape transforms into rolling hills and verdant valleys. Enjoy the breathtaking views along the way and make stops at picturesque locations to capture memorable photographs. Upon reaching   Manali, check into your hotel and take some time to relax and soak in the serene surroundings. In the evening, explore the local markets, savor delicious Himachali cuisine, and unwind.
Day 2: Manali Sightseeing
On the second day, get ready to explore the enchanting attractions of Manali. Begin your day with a visit to the Hadimba Devi Temple, a unique wooden temple dedicated to the goddess Hadimba. Marvel at its intricate architecture and tranquil setting amidst tall deodar trees. Next, proceed to the Vashisht Village, known for its hot springs. Take a dip in the therapeutic waters and feel rejuvenated. Immerse yourself in the spiritual ambiance of the Vashisht Temple nearby. In the afternoon, visit the Manali Wildlife Sanctuary, home to diverse flora and fauna. Take a leisurely stroll through the sanctuary and keep an eye out for native Himalayan species. In the evening, return to your hotel and relax.
Day 3: Solang Valley and Rohtang Pass Excursion
On the third day, embark on an exciting excursion to Solang Valley and Rohtang Pass (subject to availability and weather conditions). Drive to Solang Valley, where you can indulge in thrilling adventure activities such as paragliding, zorbing, and skiing (seasonal). Admire the panoramic views of snow-capped peaks and lush green meadows. If weather permits and Rohtang Pass is open, continue your journey to this majestic mountain pass. Marvel at the breathtaking vistas, pristine snowfields, and the raw beauty of the Himalayas. Capture unforgettable memories against the backdrop of this natural wonder. After a day filled with adventure and exploration, return to Manali and relax in your hotel.
Day 4: Manali Local Sightseeing and Departure
On the final day of your tour, explore the local attractions of Manali in more depth. Visit the Tibetan Monastery, a serene place of worship that reflects the rich Buddhist culture of the region. Experience moments of tranquility and witness the rituals performed by the resident monks. Next, head to the Manu Temple, dedicated to the sage Manu, considered the creator of human life according to Hindu mythology. Absorb the spiritual vibes and learn about the temple's significance. In the afternoon, take a leisurely stroll along the Mall Road, where you can shop for local handicrafts, souvenirs, and woolen goods. Bid farewell to the enchanting hills of Manali as you depart for Delhi with cherished memories of your trip.
Manali Tour Package
Manali, an attractive tourist destination in the lovely Indian state of Himachal Pradesh, is well-known for its scenic scenery, snow-capped mountains, and adventurous activities. There are a variety of Manali tour packages available, accommodating all tastes and price ranges. The following components are frequently seen in Manali Tour Package:
Depending on your choices, Manali Tour Package might last a few days to a week or longer. You can select a Manali holiday package based on how long your trip will last.
For the Manali honeymoon package the breathtaking scenery is one of the pleasures of a honeymoon in Manali. Manali offers a romantic location for couples to savor the grandeur of nature, surrounded by snow-capped mountains, verdant valleys, and meandering rivers. The Himalayas' stunning views produce a wonderful ambiance that is ideal for newlyweds.
In the Luxury tour package to Manali you can Enjoy the height of luxury when staying at a renowned 5-star resort or a boutique hotel renowned for its splendor and opulence. Each accommodation offers panoramic views of the scenic surroundings and is tastefully furnished with contemporary conveniences. In our Luxury tour package to Manali you experience the height of leisure while taking advantage of first-rate amenities like a spa, swimming pool, and fitness center.
Group tour package Manali: A group tour to Manali, a popular hill station located in the state of Himachal Pradesh in India, can be an exciting and memorable experience. Manali offers breathtaking views of snow-capped mountains, lush valleys, and serene landscapes, making it a perfect destination for nature lovers and adventure enthusiasts. In a Group tour package Manali, a group excursion to Manali can be a delightful experience full of excitement, breathtaking scenery, and special moments. In this alluring hill station, take in the beautiful scenery, enjoy regional food, and make lifelong memories with your fellow travelers.
Manali winter tour package: The winter vacationers frequently travel to Manali in India's scenic Himachal Pradesh state. Manali, which is tucked away in the magnificent Himalayas, offers a spectacular experience with its pristine scenery, charming valleys, and snow-capped mountains.
Manali summer tour package: You may discover a variety of sites during your summer vacation in Manali and partake in exhilarating activities. With its spectacular vistas of snow-covered mountains and options for skiing and snowboarding, Rohtang Pass is a must-visit location. If there is a lot of snowfall during your visit, make sure with the executive that the pass is open.
You can Customized tour package Manali as per your preferences and the duration or as per the number of persons by contacting the executive of Pluto Tours World Holidays Pvt. Ltd. You can also enjoy trekking in some Manali trekking tour package in places like Kheerganga trek, Sar Pass trek and many more.. You can do various activity like camping, trekking, rafting etc. in Manali trekking tour package
Highlights of Manali Tour Package
Route:Delhi – Manali – Delhi
Duration:4 Days / 3 Nights
Start point: Delhi
Endpoint: Delhi
Manali Sightseeing Tour
Temples
Hot Springs
Adventure activities
River Rafting
Transport services by an exclusive vehicle as per itinerary.

Swift Dzire/Etios/Amaze

MAP Plan ( Breakfast & Dinner)

Airport, Railway Station and Hotel Pickup and drop back at the end of the tour.

Assistance on arrival.

Check in & Check out at 12Noon.

Inclusive fall the Taxes (Parking, Toll Tax, Luxury Tax, Green Tax, Felix, And Driver Exp.etc.
Heater charge will be extra.

Any monument entry fees / camera fees.

Any meal, which is not mentioned above.

Any guide charges.

5% GST.

Any air / train fare.
Cancellation before 30days of start date will be charged 20% Of Total Package.
Cancellations between 16 days to 30 days before start date, 35% of tour cost would be charged as retention.
Cancellations between 10 days to 15 days before start date, 50% of tour cost would be charged as retention.
Cancellation between 7 days to 5 days will be charged full amount Token amount not refundable
Our Destination expert will be happy to help you resolve your queries for this tour.
Email - info@plutotours.com
25000+ Pictures and Reviews on the platform.
10000+ Tours and Activities
We have activities across 17 countries, across every category so that you never miss best things to do anywhere.
We are always able to support you so that you have a hassle free experience.